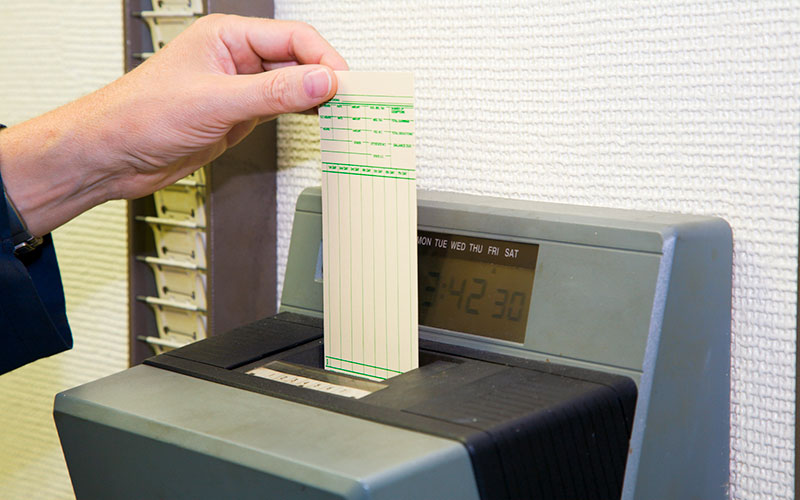 01 Aug

Dealing With Time Card Fraud

Time card fraud occurs when employees lie about when and how long they worked, potentially resulting in considerable revenue loss for a business. With a staggering 45% of hourly workers admitting to time card fraud, prevention remains vital — and private investigators can help.

Time card fraud takes many forms, including employees engaging in extended personal activities, taking breaks while on the clock, arriving late to work but recording otherwise, or recording off-the-clock work that was never completed.

The first step in preventing time card fraud remains simple: making sure your employees know your company policies. By signing a document that outlines these policies, employees acknowledge that they have read and agree to said policies, including those involving time cards.

Developing specific policies concerning time cards will also reduce the chances of fraud. With a specific policy in place, it will be easier for management to spot timecard discrepancies, and reduce time card fraud as a result. Additionally, having a review process for time sheets allows for multiple people to review time cards before approving them, further reducing the chances of fraud.

If you suspect an employee is committing time card fraud, a private investigator can assist you in finding evidence. Investigators are adept at collecting photo and video evidence which can help you determine just cause for terminating an employee's contract, which can help you avoid a lawsuit.

Private investigators can also determine if assets are being used inappropriately with security software, and they can run background checks on employees before you hire them. In this way, investigators can confirm or assuage your fears of theft from you employees and put you at ease.

For more information about employee time card fraud from the experts at Grand Slam Investigations, please contact us here or call us directly at 231.359.1555.